In 2021, we watched as the Highlighter community continued to rapidly grow and expand. Alongside our Highlighters continuing to express their eagerness to share more of their invaluable feedback on products, we found ourselves wanting to leverage this vetted network even more as we ourselves innovate and grow.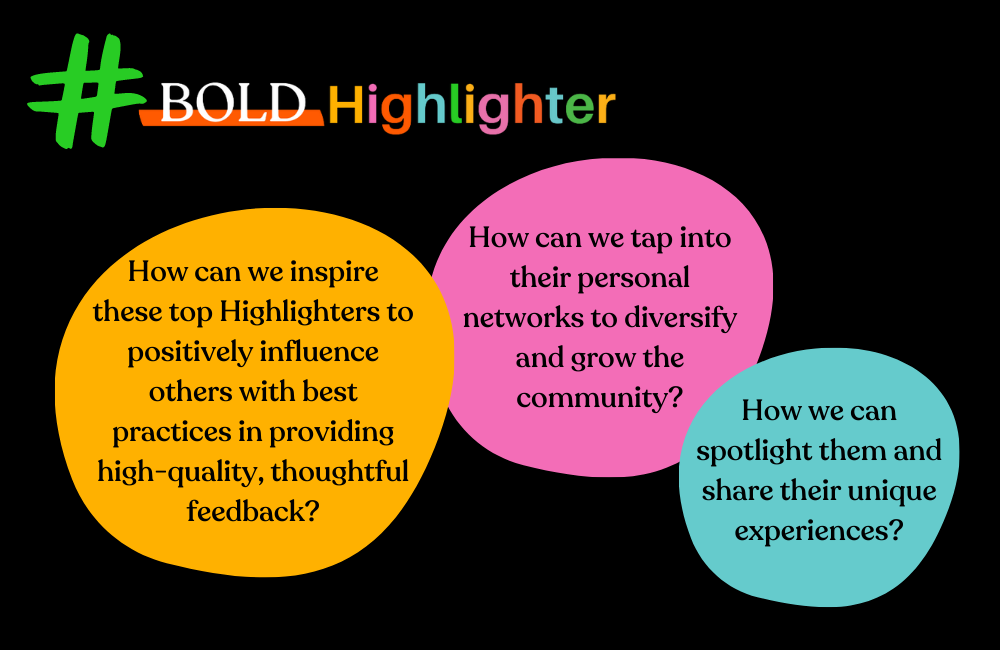 Presenting BOLD
We built BOLD to build loyalty, drive awareness, create engaging content, and receive targeted feedback for the new and exciting initiatives we are launching at Highlight throughout 2022. BOLD is intended to empower our high-performing community members who consistently share quality, thoughtful, and timely feedback in the product testing process.
Coming up for a fun name for this program was exciting and we eventually landed on "bold", a play on words with sharpie Highlighters. It was so fitting as the group of Highlighters clearly stood out to us as they were high-valued and BOLD in their ways of shaping preeminent brands firsthand.
Kicking off
In the Highlighter community and within the Highlight company itself, diversity is always at the forefront. We want to champion diverse opinions, perspectives, and voices. Thus, for our first group, we have selected a diverse group of influential, well-profiled BOLD Highlighters. We hope these individuals can continue to connect us to more communities and people that will provide unique, insightful feedback while also trying out fun + new products.
Through our BOLD program, our BOLD Highlighters will receive the support and swag they need to boldly inspire and boldly champion the Highlighter community to its fullest potential!
What's coming next 🎉
As we continue aligning the building blocks of this new initiative, we can't wait to see it evolve, shape, and connect our Highlighter community. We're so excited to see our Highlighters start to rep their Highlight swag and grow their unique, important voices! The first cohort kicked off in early 2022 and will be growing throughout the year.