Highlight Announces Next-Generation Product Testing Platform
Highlight's latest platform delivers the physical product data researchers
need on impossible timelines.
Highlight, a leader in physical product intelligence, has launched a new platform that promises to revolutionize physical product testing. The new platform is designed to be faster and more user-friendly than its game-changing predecessor, allowing product researchers, marketers, and insights professionals to gather valuable product data faster and more efficiently than ever before.
Highlight's groundbreaking, tech-centered approach to physical product testing addresses the current inefficiencies in the testing process that often hinder brands from making timely and informed product decisions. Since its inception just over two years ago, the platform has empowered hundreds of prominent brands such as Nestlé, Estée Lauder, P&G, King's Hawaiian, Hanes, and many others to test thousands of products with exceptional results. Highlight's latest platform caters to modern brands seeking to optimize their physical product testing processes by offering the data they need on impossible timelines all through a comprehensive end-to-end platform.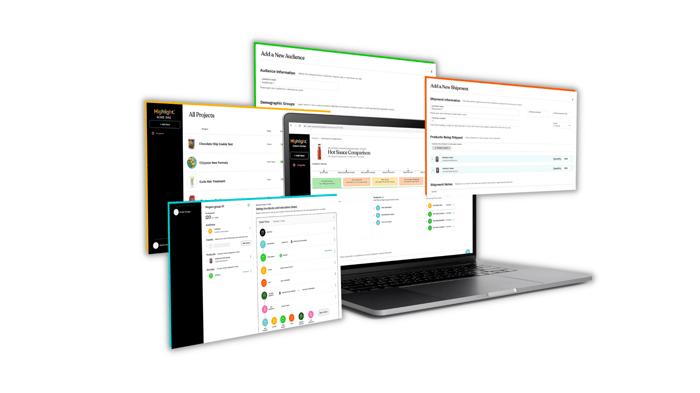 "The [new] Highlight Portal elevates our research experience by giving us visibility to every step to the process. There are no surprises from the planning through to the final complete. It eliminates the stress caused by all the back and forth normally required to make sure your project is on track. The platform allows the team to collaborate and build their studies quickly and seamlessly … so everything is right the first time." -Emily Kimmins, R&D Lead, Kraft Heinz
With the new platform, researchers can set up their projects in minutes, not days, and see their data roll into live dashboards in less than a week. The platform boasts industry-leading 90% completion rates and allows researchers to get hyper-targeted with demographics, psychographics, and more. The platform's intuitive controls allow users to approve and manage key study process points, including survey and insert finalization, virtually and with ease.
Highlight's latest release is a testament to the company's unwavering commitment to providing cutting-edge solutions to the product intelligence arena. "We have invested heavily in the next generation of physical product testing to help product researchers, developers, and innovators collect quality consumer feedback at breakneck speeds," says Highlight Co-Founder Ethan Kellough. "The brand new Highlight experience is the only way for teams to work collaboratively on their product testing and have live visibility into the entire process, which makes in-home usage tests stress-free and easier than ever before."
By utilizing Highlight's new and improved platform, product developers, marketers, brand managers, and innovation teams can navigate a simplified user interface to set up flexible and complex tests, helping them make better informed and data-driven decisions. Researchers can now spend less time worrying about tedious processes and more time focused on building better products.
Get a personalized demo
Choose faster innovation today.
See why brands like Nestlé, Estée Lauder, Colgate, and more trust Highlight with their physical product testing needs.