SnackFutures, Mondelēz International's innovation and venture hub, is changing the game by creating well-being snack brands and investing in cutting edge start-ups who share in their mission to create snacks that are good for people, kind to the planet, and deliciously fun. Highlight teamed up with CoLab, SnackFuture's 12-week start-up program to deliver product insights to 9 start-ups in their 2021 class. We packed & shipped 130 boxes filled with goodies to our community of Highlighters and provided these start-up founders with robust product feedback in return.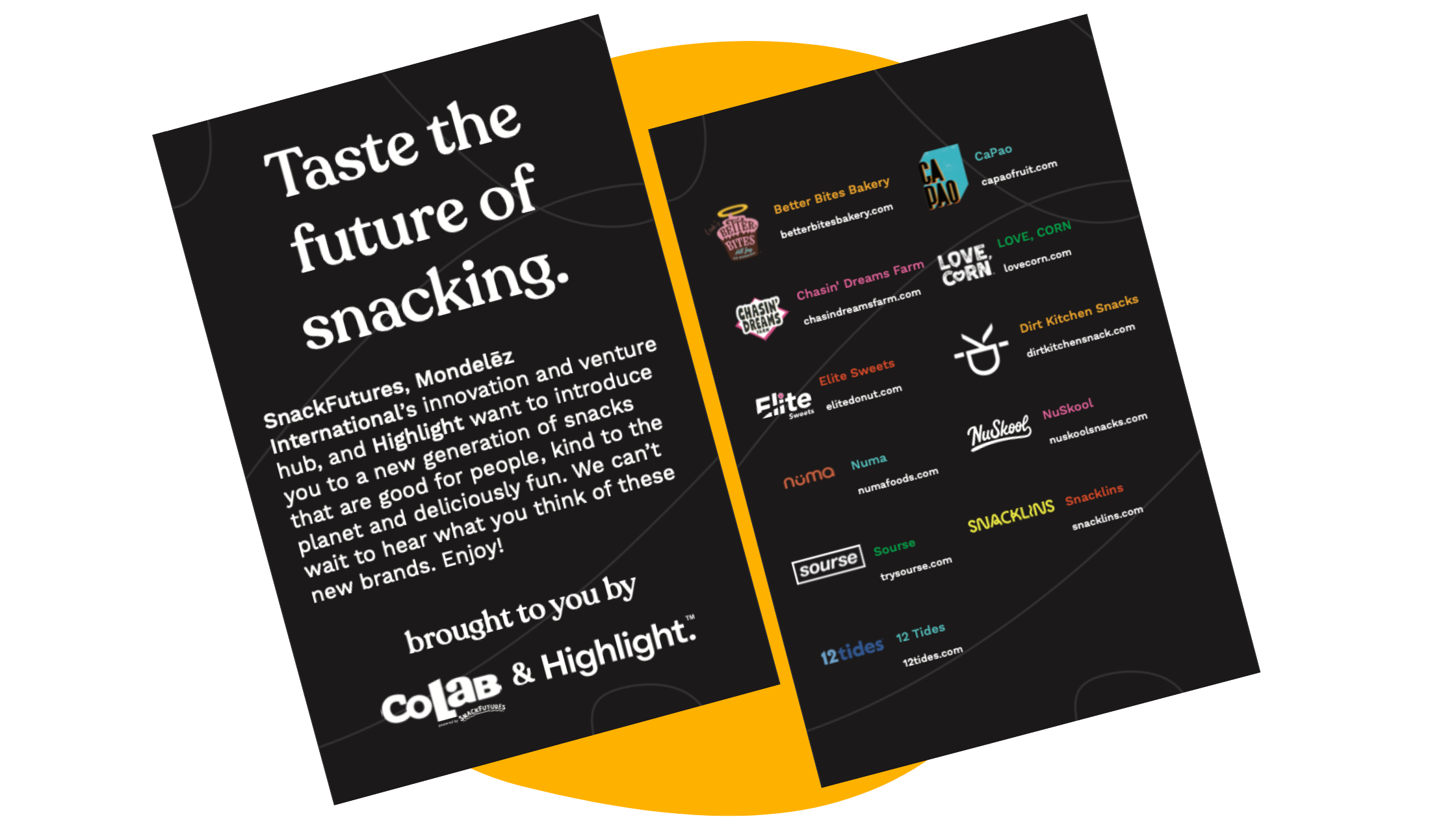 As a startup ourselves, we know how critical early-stage feedback is to business and product development. We believe that the sooner a company can gather answers to important questions around their vision, product, and execution, the better. This was perfectly evidenced by our project with CoLab, as each emerging brand took away key learnings to power everything from product refinement to messaging opportunities and consumer targeting. Here are some of our top takeaways from the collaboration:
It is never too early to collect data

Early stage product development is a prime time to gather consumer insights. Feedback from Highlighters has helped the CoLab brands to refine their product formulas, packaging, pricing, and more.

"Super excited to utilize resources like Highlight as we grow our brand and expand our retail footprint. It's amazing getting real life feedback and it blows my mind how quick the response time is.. It's game changing!" -Amin, Founder & CEO of Elite Sweets





The results of your product test often spark ideas for future innovations

"It was incredibly interesting to see how our sweet snacks compared to others that Highlight has tested! It will definitely help impact who we target and our marketing strategy in order to reach those who showed the most love of our pops. This information will help guide and inform us throughout our next moves as a company." -Abbey, Business Operations Associate for Chasin' Dreams Farm

Consumer insights are invaluable to a startup seeking investment or expansion opportunities

Consumer insights can help to indicate which consumers to target, purchase intent, and overall product appeal. Trends in consumer data, such as willingness to pay, are extremely helpful to startups seeking investment.

An ecosystem of partners helps to support brands as they navigate their market's competitive landscape
Collaboration among emerging brands and startups is crucial as they face similar challenges and opportunities. "CoLab is a start-up program created to accelerate SnackFutures' mission of creating a snacking world that is good for people, kind to the planet and deliciously fun. We built it to be deliberately different from any other accelerator or incubator, meaning it was a hands-on, collaborative community of start-ups, SnackFutures intrapreneurs, Mondelēz International subject matter experts and ecosystem of partners. The outcome of our inaugural class exceeded all expectations and reinforced the importance of 'big' and 'small' working together to grow the well-being snacking category." - Jackie, Innovation and CoLab Program Manager at Mondelēz International
---
Are you ready to bring your product testing into this new age or know someone who is? Reach out to us via the link below and we'll be in touch right away!