Have you ever been standing in a mall or other public space when you're randomly asked to test a product or take a survey? Or maybe you've seen an ad to be a part of a research study in a nearby focus group facility? Almost everything in our lives, from the snack bar we pick up at the grocery store to the detergent we clean our clothes with, has been tested at one point or another. Physical product research helps companies accurately understand how people will react to their products and how those products will perform. The execution of that research, however, is no easy task.

Traditional product testing requires juggling multiple workstreams, deadlines, and vendors – from recruitment agencies to fulfillment centers – and takes far too many stressful hours, emails, and dollars. We both experienced this firsthand. Dana, specifically, had been working for years as a qualitative market researcher with companies like Coca-Cola, Nike, and Starbucks, as the (literal) boots on the ground collecting important product insights the old way. These outdated options often leave researchers stuck deciding to rush out bad research or, sometimes, forgo it entirely. As a result, roughly 90% of the 30,000 products launched each year fail.
Physical product research for the 21st century

Highlight exists to help products exceed the rising bar we have for them. Our in-home product testing platform lets product developers and marketers do good research fast. It helps brands manage their research goals directly, instead of dealing with a host of traditional vendors. Highlight streamlines everything from recruit to data set, including all the logistics of getting products into the hands of their target customers. Whether it's a product designed for kitten-owning millennials or retinol-using women over 50 in California, researchers can get their projects moving with just a few clicks and cutting time to insight in half.
No matter how big or small the project, researchers can see the crucial data they need come to life in five steps:
Create an account and start a project by selecting who they'd like to get feedback from.
Ship product to Highlight, in any quantity they want. We handle it all – even frozen or refrigerated items.
Enter the questions they'd like to get answered.
Highlight finds their target consumers, ships out their products, and gets their questions answered via the Highlight app.
Log in to see their data come in live, with unmatched completion rates of 90%..

H
i
g
h
l
i
g
h
t
handles the research, so brands can focus on the product.
We're just getting started
Today, we're excited to announce that Highlight has raised $8.2M in funding led by First Round Capital with participation from HearstLab, Sixers Innovation Lab, Scribble Ventures, Operator Partners, and angel investors Zander Lurie (CEO of Momentive, fka SurveyMonkey), Max Mullen (Founder of Instacart), Richard Thornton (former CEO of Cint), and Tom Bernthal (CEO of Kelton). We're using this capital to hire an all-star team and accelerate our growth on a mission to raise the bar for physical product development.
As Highlight continues to grow, we aim to help our partners, big and small, do the same. We're proud to be working with nearly 100 initial partners, including early-stage brands like Partake, Avec, and Love Corn, growth-stage brands including Sakara, and the biggest of the big CPGs such as Nestle, P&G, and Estee Lauder. Whether testing new recipes, benchmarking the competition, auditing classic products, or A/B testing new formulas, all of them share our goal of building better products, rooted in more efficient, agile product testing. These brands have already used Highlight to test hundreds of products with thousands of people and had hundreds of thousands of questions answered.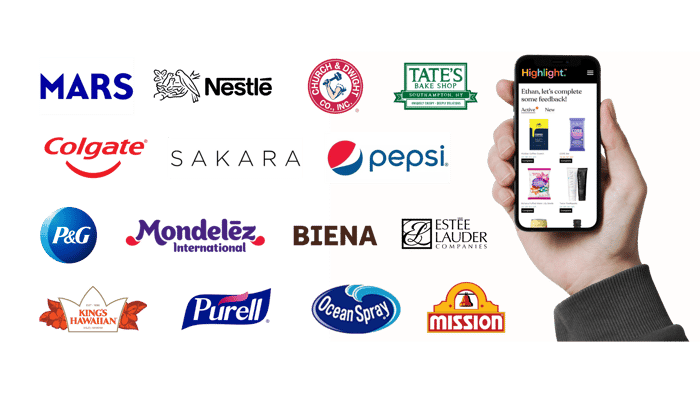 We've worked with major CPG brands to support large-scale taste testing of cookie prototypes before recipes got locked in for full production, tested sanitizer performance in the peak of COVID-19, and conducted market scans of competitive categories to gather benchmark data and inform new innovations. Emerging brands have used Highlight to test different nutrition bar formulas side by side, assess the efficacy of new CBD products, and ensure new skincare lines matched skin tones. By providing brands with modern research tools that reflect their data in real-time, we give everyone more time to work on dreaming up the next big thing.
Let's raise the bar,
Dana & Ethan
---

Do better research, faster
If you're looking to build better products, we're growing our list of partners and want to hear from you. Book a demo to get started.
Join the Highlight team
We're hiring for roles across sales, marketing, product, engineering, data, and more. If you believe physical product testing requires a revolution, join us