Get started today
Request a personalized demo!
Are you ready to take your product testing and innovation to the next level? Highlight is an in-home product testing platform that lets you do good research fast.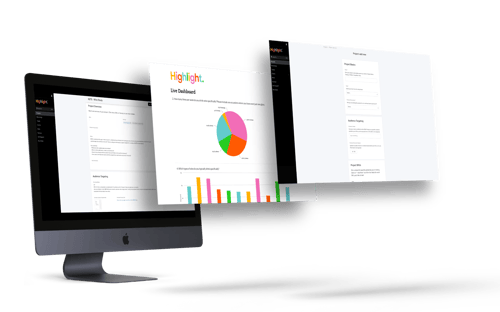 Here's the quick overview
Testimonials
What our clients say
"The Highlight platform was a dream to work with from end to end on our project, handling everything from procuring product to detailed reporting with speed, thoroughness and impeccable communication along the way. Their fresh approach to home testing meant we received high-quality responses in a short period and had the ability to track the results live in our user-friendly Dashboard. The data and insights we've received so far have been invaluable to our work and we look forward to continuing our relationship with Highlight."
"When I reflect on our experience with Highlight, a few words come to mind — speed, quality, and thoroughness. Compared to some previous home use tests, Highlight took on the heavy lifting of the logistics and shipping so that we could focus our attention on the learning and insights. The process allowed us to trial and speak directly with our target market, perfect our messaging and brand tagline, and ultimately ensure that we kept our consumer at the center of all communication. It was a great checkpoint in the creative process"