The Five Sensory Test Design Principles
Product development has become a data-driven, practically data-obsessed, process. With insights being core to more and more steps along the product development lifecycle, we designed a method series to help product developers and insights managers find ways to work through each step with more agility and focus.
This post speaks to one step in the journey, Prototyping, where we share a culmination of best practices we've created along the way. Thank you to the Sensory teams across CPG brands big and small who helped us get here and create Five Sensory Test Design Principles.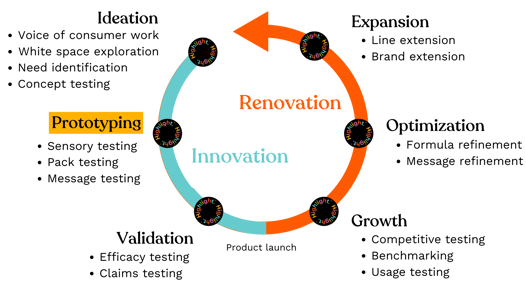 #1: Test early and often.
There is nothing worse than investing time and energy into developing a product you know consumers want, just to have it flop because of flavor or form. It's never too early to start testing a prototype, even if you aren't sure what to call the product, what it should look like, or what flavors to produce. And it's okay if you don't have an abundance of sample! At this stage, the key is to check you're on the right track and gather feedback free from brand or messaging-bias by testing, iterating, and testing again.
Example: Update, an emerging functional beverage company, came to us to test four flavors of their new product. We shipped unbranded prototypes to consumers nationwide, who just received a description of the product concept and the physical prototypes to try. This "white bag" environment allowed the Update team to understand flavor resonance and product effectiveness quickly, before finalizing the final formula and moving onto messaging and marketing planning.
#2: Focus just on the target audience.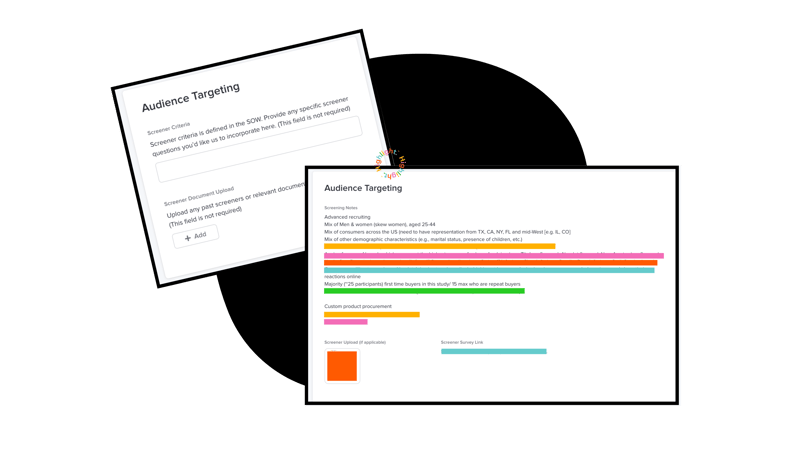 Recruiting the right people to test early stage products is no easy feat, but key to a successful sensory test. Given the number of prototypes or samples is typically limited at this stage of the product dev lifecycle, go for a hyper-targeted audience to get the best, most relevant insights from forward looking thinkers who you aspire to capture with this product. Hand-selecting recruits and testing for articulation and category interest is time consuming but well worth the depth and quality of feedback you'll get.
Example: A ventures team Highlight worked with within a leading personal care brand took this approach and leveraged over 26-points of profile data to not only target their ideal audience but to ensure they intimately knew and understood each participant providing feedback. This context was immensely helpful to the R&D team when it came to make sense of what they heard from product testers.
#3: Leverage JAR scales to identify tensions
JAR or "Just About Right" scales are a staple when it comes to sensory work. Questions like "how do you feel about the level of sweetness in the granola bar you tried?" help you isolate the subtle nuances that can move your formulation in the right direction. What's more, these scales can also help you identify the tensions inherent to your product (i.e. low calorie but tastes too healthy) and leverage those learnings to find the right balance of ingredients, flavors, etc.
Example: Forward Foods put this idea into practice, in testing the right amount of sugar to include in their chocolate hazelnut spread. By sending two variations to our community of Highlighters, they found that consumers give themselves a bit more "caloric allowance" when it comes to natural sweeteners, and decided to refine and launch a variation that did just that.
#4: Keep it open-ended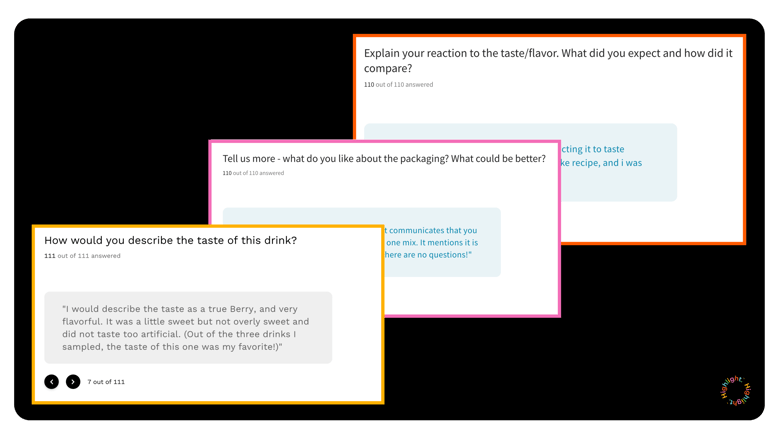 Designing your sensory test survey can leave you feeling scattered - so many priorities, so little time. Both closed and open-ended questions are crucial, with an emphasis on open-ended if we're talking very early stage prototypes, ideas, and formulations. In-depth interviews are a great supplement to a simple product test survey, creating space to dig into new topics you didn't think to ask about in the survey and explore the tensions we mentioned in principle #3.
Example: Bare Hands was a fan favorite among our Highlight community, who got to test these at-home manicure and pedicure kits. With a handful of 1:1 digital interviews, we were able to more deeply contextualize a pressing sensory-adjacent topic: receptivity to a new product line extension and the degree to which branching out from the core portfolio impacts existing brand equity. This integrated approach to insights painted a more complete and holistic story for the R&D team.
#5: Listen in for marketing implications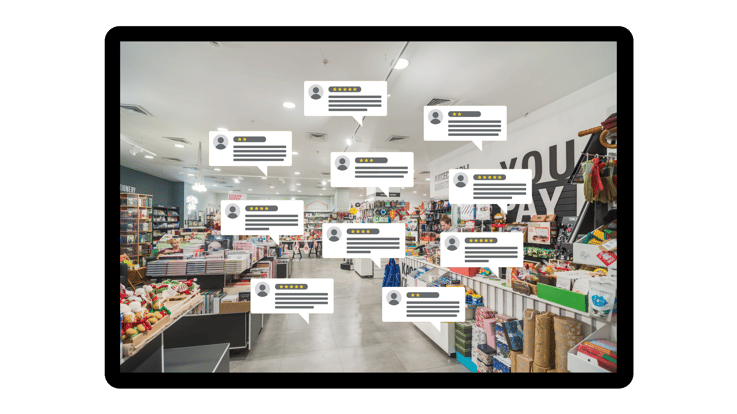 Sensory testing is often exploratory in nature and when product is in hand, consumers feel free to unleash anything and everything that comes to mind about the product. In addition to direct lines of questioning about flavor, texture, form factor, you'll often come across a few gems that can serve as inputs into your marketing strategy. Drivers of trial, shelf expectations, points on confusion, and lead benefits come up organically more often than not, in qualitative interviews or open-ends. Think of it as free advice your brand and marketing partners need to hear!
Example: Our relationship with the SnackFutures team at Mondelez has shone a light on how impactful sensory testing can be for the entire product launch team. We found in a recent sensory test that consumers have very little understanding of sustainable production processes when it comes to snack creation. This insight raised the bar on education of the practice this prototype was based on, critical for future product messaging to resonate.
---
Stay tuned for more from this Method Series!
We hope you found our perspective helpful. Reach out if you'd like to know more about simple, practical, and effective tools for designing Sensory tests and making sense of the data you get back.
Learn more about our process!